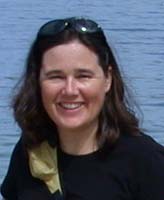 In our latest pulication, we described the new sponge species Tethya leysae (Demospongiae, Hadromerida, Tethyiidae) which can be found in Barkley Sound, Vancouver Island, British Clumbia, Canada, near Bamfield. The name refers to Sally P. Leys, a Canadian zoologists (Image to the right).
Heim, I and Nickel, M (2010), "Description and molecular phylogeny of Tethya leysae sp. nov. (Porifera, Demospongiae, Hadromerida) from the Canadian Northeast Pacific with remarks on the use of microtomography in sponge taxonomy", Zootaxa, 2422: 1-21.
The article was published under Open Access license in zootaxa. Please feel free to download the PDF directly from Zootaxa.